Green Eco Guardian Elite Series Windows With Owens Corning Air Sealing Technology Construction

Green Eco Sunblock Vinyl creates the industry-leading window of choice in Lehigh Valley
In order to create some of the most energy efficient and safe windows on the market today Green Eco Solutions uses Green Eco Sunblock Vinyl. Green Eco Sunblock Vinyl allows the Green Eco Guardian Elite Elite Series windows to meet the highest standards of quality and performance.
There are four key things you should know about Green Eco Sunblock Vinyl:
Structural integrity - Guardian Elite Series energy-efficient windows made with Green Eco Sunblock Vinyl maintain structural integrity and appearance for many years longer than typical 100% pure vinyl.
Appearance - Green Eco Sunblock Vinyl ensures long-lasting color retention and low maintenance, plus the added confidence of a lifetime warranty against rotting, cracking, pitting, corroding and peeling.
Awards -The Sunblock Vinyl is the only North American PVC window lineal that is GreenCircle Certified Company for Recycled Content.
Self-extinguishing - the Green Eco Sunblock Vinyl will not maintain a fire and extinguishes itself.
Exceptional Quality. Green Eco Guardian Elite Series Windows regularly trounce their competition in nearly every category.
These are just some of the main ways that Green Eco Sunblock Vinyl distinguishes itself from the competition. Green Eco Sunblock Vinyl is also 1,210% better than the competition at retaining color, 41% better than the industry standard for dimensional stability, and 325% better than industry standard at impact resistance.
Do you need industry-leading windows that are built to last and outstrip the competition in nearly every way? Green Eco Guardian Elite Series Windows are for you. Contact us today to schedule your free window replacement estimate!
Green Eco Core: Revolutionary Thermal Reinforcement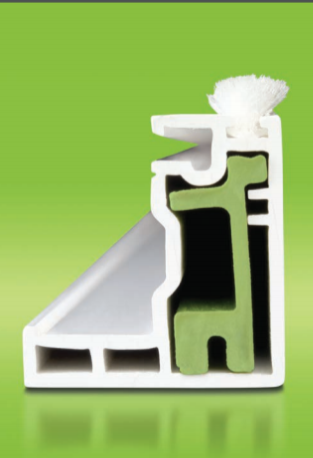 Energy Efficient Aluminum Alternative. As the next generation of thermal reinforcement, Green Eco Core offers performance 700 times better than aluminum.
High Performing Alternative to Aluminum Inserts
Superior performance doesn't get much easier than this. Green Eco Core Thermal Reinforcements are advanced fiberglass reinforced resin inserts, designed to slide easily into window and door frame chambers for greater support and insulation.
The result is a new, more efficient system with all the strength and structural reinforcement of aluminum, but with a whole new set of high-performance benefits for the home.
Green Inside and Out
Green Eco Core looks green because it is. Starting with a 20% bio-based resin component in its proprietary formulation and incorporating soy and other renewable sources, the composite offers strength, stability, and flexibility without using styrene or peroxide.
But the real green story is the superior thermal performance which enables Green Eco Core to be an excellent energy saving addition to every window. Green Eco Core is virtually impermeable to cold or heat and extremely resistant to condensation.
If you want some of the most energy-efficient windows on the market today or just want to learn more then don't hesitate to give us a call at 1-844-385-8414 or contact us online. We offer free estimates on all our window replacement and other services!
Looking for a price? Get a no cost, no obligation free estimate.